Browse:
Home
/
Central Park Library
Central Park Library
Anything related to the Central Park library.
By twingrove on January 14, 2015
Don't wait!  Register now for the Love Our Library Lollapalooza at www.lovethelibrary.dojiggy.com.  Early bird tickets are $50 until January 23rd.  Afterward, tickets are $60. Come for the people, come for the fun, come for the auction and support your Library!
Posted in Central Park Library, Uncategorized, Upcoming Events
By twingrove on January 8, 2015
Check out the new display in the Central Park Library lobby.  Find books to help you keep your New Year's resolutions. Thanks to Kaiser Permanente for sponsoring this program.
Posted in Adults, Central Park Library
By twingrove on October 6, 2014
The Foundation and Friends Holiday Craft Faire will be held Saturday, December 6, 2014.   Applications are available now at the Library and online at lovethelibrary.org under the heading Events.  If you have any questions or inquiries, please contact us at  holidaycraftfaire@yahoo.com.
Posted in Adults, Central Park Library
By twingrove on July 25, 2014
Summer Reading is in full swing here at the Library!  You can pick up your award books and prizes here at the Library between July 21 and August 17. Don't miss the last family concert next Monday, July 28 at 7:00pm.  Tempos de Outrora will be performing.  The group shares the traditional songs and dances […]
Posted in Central Park Library, Library Programs, Summer Reading
By keith on June 9, 2014
It's officially summer again; and that means Monday night should be spent in Central Park Pavillion at the Summer Reading Family Fun Night! Tonight, at our opening event, Keypoint Credit Union presented a check for $15,000 to the Santa Clara Library Foundation to provide the funding for many of the Summer Reading programs.  And, then, […]
Posted in Adults, Central Park Library, Children's, Summer Reading, Teens, Upcoming Events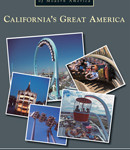 By twingrove on June 6, 2014
Date:  6/9/2014 Time:  6:30 PM – 7:45 PM In May 1972, actor Fess Parker of Davy Crockett fame announced plans for a huge theme park complex in Santa Clara. Eventually, the Marriott Corporation joined the effort.  Parker later departed, while Marriott pressed on.  Marriott's Great America opened its gates on March 20, 1976. It featured […]
Posted in Adults, Central Park Library, Library Programs, Upcoming Events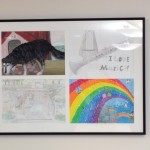 By twingrove on May 30, 2014
You are invited to come and take a look at the artwork that has been installed in the Teen Area. Back in March, 12 middle school students from Sister City Izumo, Japan brought artwork to the library. It has been framed with funds from the Foundation & Friends and is now hanging above the Anime/Manga […]
Posted in Central Park Library, Teens
By twingrove on May 29, 2014
Summer Reading starts this Sunday, June 1st, and the Kickoff Party is Saturday, June 7 from 1pm -4pm. You can sign up online to receive your reading logs.  Reading logs for children, teens and adults will also be given out at the Youth Services & Reference desks.   Go to http://library.santaclaraca.gov/index.aspx?page=2819.to sign up for Summer Reading! […]
Posted in Adults, Central Park Library, Children's, Library Programs, Summer Reading, Teens, Upcoming Events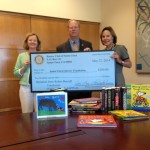 By twingrove on May 29, 2014
A big shout out to the Santa Clara Rotary for supporting the Library!  Rotarians purchased the books on the table, had them signed by club speakers each month and donated them to the Library.  As if that weren't enough, they donated the proceeds of book purchases at a presentation by author Robin Burcell. From left […]
Posted in Central Park Library, Children's, Thanks